Logo Requests
The purpose of the trademark is to protect the quality and integrity of Reading Recovery
The Reading Recovery trademark was given by the founder, Dr. Marie M. Clay, to The Ohio State University for the United States. Use of the trademark is granted annually on a royalty-free basis by The Ohio State University to Reading Recovery training centers and sites in compliance with Reading Recovery standards and guidelines. Consistent presentation for the trademark and typeface represents the consistent and high-quality results that are part of Reading Recovery's heritage. On Dec. 18, 1990, the U.S. Patent Office officially approved for registration the Reading Recovery trademark plus the "book and globe" logo.
For information regarding the use of the Reading Recovery logo in the United States, please contact Lisa Pinkerton at The Ohio State University.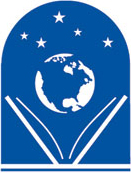 About the Logo
The globe and stars in the Reading Recovery logo are suspended above an open book, suggesting that the world is open to those who are literate. Because the logo was intended for use in connection with Reading Recovery in North America, the globe is turned to show the North American continent.
Each of the five stars represents a country where Reading Recovery has been implemented (U.S., Canada, New Zealand, Australia, United Kingdom).